Welcome to 2030 – the beginning of a new decade. The State of Earth has Changed. A powerful and diverse social movement has succeeded in redesigning the rules, practices, narratives and power relationships of the broken economic system we were born into. The world is now a place in which all people and the health of our planet are valued, and are at the heart of our economic systems. Through a sustained, collective effort, we the people have shifted the destructive, inequitable Musk-Bezoz-Zuck's era market economy, into a new economy that uses markets to serve the common good, and we have fundamentally changed the meaning of money.
Okay, so we're not there yet. So in this first edition of the Earth State Briefing for the year 2022, as we ask...
Will 2022 be the year that the world realises a new (Tokenised) Earth Economy is being born? – wen Tokenised Earth Economy?
Let's start by asking what is a Tokenised Earth Economy, and what could the future of this new economy look like? First through the lens of the New Capitalism Project.
We invite you to add your voice to this emerging narrative, by proposing what a Tokenised Earth Economy could look like. We'll gather this as Earth State Intelligence to share these proposals in future editions of the Earth State Briefing.
DrCrypto added this early draft outline, to stimulate discussion and debate that can help us to collaboratively build the narratives, protocols, systems, practices, and our beliefs about the potential of tokenising and valuing positive Earth State changes as the basis for an economic sytem that is inherently sustainable and that brings about ecological regeneration at the scale that is needed, before it is too late. This includes a TL;dr on What is an Economy, that you really should read, and introduces the term Earth Currencies.
For the Crypto-skeptics, we have a summary of Ethan Buchman's recent tweet thread critique on the purpose of cryptocurrencies and money.
Earth State Markets
Here's the latest intelligence we have gathered on tokens and markets in the fast-growing Tokenised Earth Economy.
💲State of the Markets
It's been an interesting start to the new year, to say the least. Beginning with the gloomy news from of the U.S. Fed's hawkish stance that signals the end of a cheap capital. 2022 could see  aggressive interest rate hikes to stem the inflationary growth of a debt-burdened economy. The markets responded with a hefty sell-off, especially impacting on the tech-related stocks of the speculative boom, with crypto falling into this category. Bitcoin took another dive, from $48k to $41k!
U.S. inflation numbers came in at 7%, which is exactly what the market had priced in, giving aggressive interest rate hikes a brake for now. As has become the pattern, this positive news produced a crypto pump that put a lot of bears back in the woods. Market interest on crypto exchanges is at an all-time high; prices have not gone low enough for bears to exercise their shorts, and they are starting to feel the pain. The Bitcoin hash rate is at an all-time high, recovering from the Chinese ban on mining last year, that just shifted mining activity to other locations.
Analysts are predicting a short squeeze that could lead to a sharp price jump in the crypto markets. Look out for green signals over the coming week!
Crypto adoption continues to rise, regardless of price signals. The Fed's Jerome Powell suggested stablecoins could co-exist with a central bank digital currency.
We have entered the era of crypto billionaires. Founder of Binance, Changpeng Zhao (CZ), is now the 11th richest person in the world with $96 Billion in his piggy-bank – excluding any crypto in his wallets!
Coinmarketcap has become the second most popular finance website globally.
📈Reference Markets over the past week
📊Impact Markets over the past week
📉DAO Shares over the past week
The down market seems to have hit rebase tokens particularly hard, as most have declined by more than 50% over the past month. Building treasuries with tokenised assets is a long-term play!
ℹ️ Remember that DAO's with a rebase mechanism should be valued on their treasuries, and market cap increases are a more important metric than token prices, as high yields try to outpace price fluctuations.
👾Earth NFT of the Week
100,000,000 Mangroves is a collaborative NFT Series between Regenerative Resources (RRC), Regen Network, Chainlink, and Elevenyellow to grow 100 million mangroves. Although the series will be emitting ~120 tonnes of carbon, it is expected to sequester 20,000,000 tonnes of carbon over 25 years.
The NFTs are short films gifted by artists Saiful Haque, Filippo Nesci and Jan Urschel. Dynamic NFTs aren't easy to create, making this a mammoth initiative, but one that holds a lot of promise of making a massive real-world impact.
🌱 Market Growth Signals
There has been a explosion over recent months of ReFi projects for Climate. Check out the interactive map from Kumu Project and we will continue reporting on these developments in upcoming editions of the Earth State Briefing.
🌕 Market Opportunities
⭐️Token Analysis

$ATOM and the Cosmos ecosystem are a great place to build your crypto portfolio, with a strong focus on sustainability and regeneration. This vibrant ecosystem is growing fast and the outlook on $ATOM is bullish.
Earth State Technologies
A data lake improving the state of wetlands in India. Lake Sembakkam, in Chennai India, is a degraded wetland riddled with pollution and poor water quality. A purpose-driven project uses technology, including AI and remote sensing, is working to improve the lake's water quality.
Sustainable Data from Carbon. LanzaTech produces sustainable fuels and materials such as textile, rubber and packaging and LanzaJet is the company's sustainable aviation fuel business that is planning to open a production facility in Georgia next year. This woman-led company has already raised more than $550 million. Unilever makes detergent products using this carbon capture technology. And now Microsoft has invested $50 million to fuel sustainable datacenters.
Earth State Change
From Billions to Millions. Cardano ($ADA) has reached its initial goal of planting one million trees across Madagascar, Indonesia, Nepal, Kenya, Senegal and Haiti, all recorded on the Cardano blockchain. This was the first Cardano Global Impact Challenge for the Cardano Ecosystem and "truly shows the power of our community." - Frederik Gregaard, CEO of the Cardano Foundation.
Earth States-Person
We pay homage to the great E.F. ("Fritz") Schumacher, who's pioneering book Small is Beautiful: A Study of Economics as If People Mattered, published in the 70's, laid the foundations for new economic thinking. According to The Times Literary Supplement, this is among the 100 most influential books published since World War II. He is equally known for his critique of the growth model of Western economies and his influential proposals for human-scale, decentralised and appropriately scaled technologies.
His philosophies of scaling locally are at the heart of the Interchain Foundation's Earth Program work on developing sovereign blockchain technologies for decentralised, tokenised local currency systems.
Any intelligent fool can make things bigger and more complex... It takes a touch of genius - and a lot of courage to move in the opposite direction. – E.F. Schumacher
Read more about how the The term "local currencies" is defined by the Schumacher Center for a New Economics local currency program as place-based monetary tools for regional communities to issue their own money for financing local production and to build sustainable local economies, to create a regenerative global economy.
Earth Tweet of the Week
Earth News
Reverse-engineering. A man in San Francisco has found an inventive way of mining cryptocurrencies by hooking up graphic processing units directly to his 2018 Tesla Model 3 car battery. Even though it risks his car's warranty, Siraj Raval says it's worth it.
Good Token Yields. Criticised as being a protocol that delivers high yields from DeFi greedm, Olympus DAO introduced 'Olympus Give' late last year and is working with partners such as Gitcoin, Angel Protocol, Impact Market, Kolektivo and Popcorn to enable $OHM stakers to redirect their yields to pre-selected Olympus Give causes, or to any wallet of their choosing.
"This will be crucially important for the long term health and growth of our community." - OlympusDAO
The Black Hole for Carbon. KlimaDAO has further increased its treasury holdings of carbon credits by 50% in just two months, accruing over 14 million on-chain carbon offsets and causing gravitational waves in traditional carbon markets.
The Gravity of the booming crypto carbon offsets market is drawing in DeFi entrepreneurs and big investors, such as Mark Cuban.
Earth Actions
Consider what it means for ESG investment to meet DeFi. Michael Kisselgof, co-founder of PopcornDAO, describes this as "The next Trillion Dollar Asset Class".
Journey through the "relentless 2021 news cycle", all put into one chart by Axios.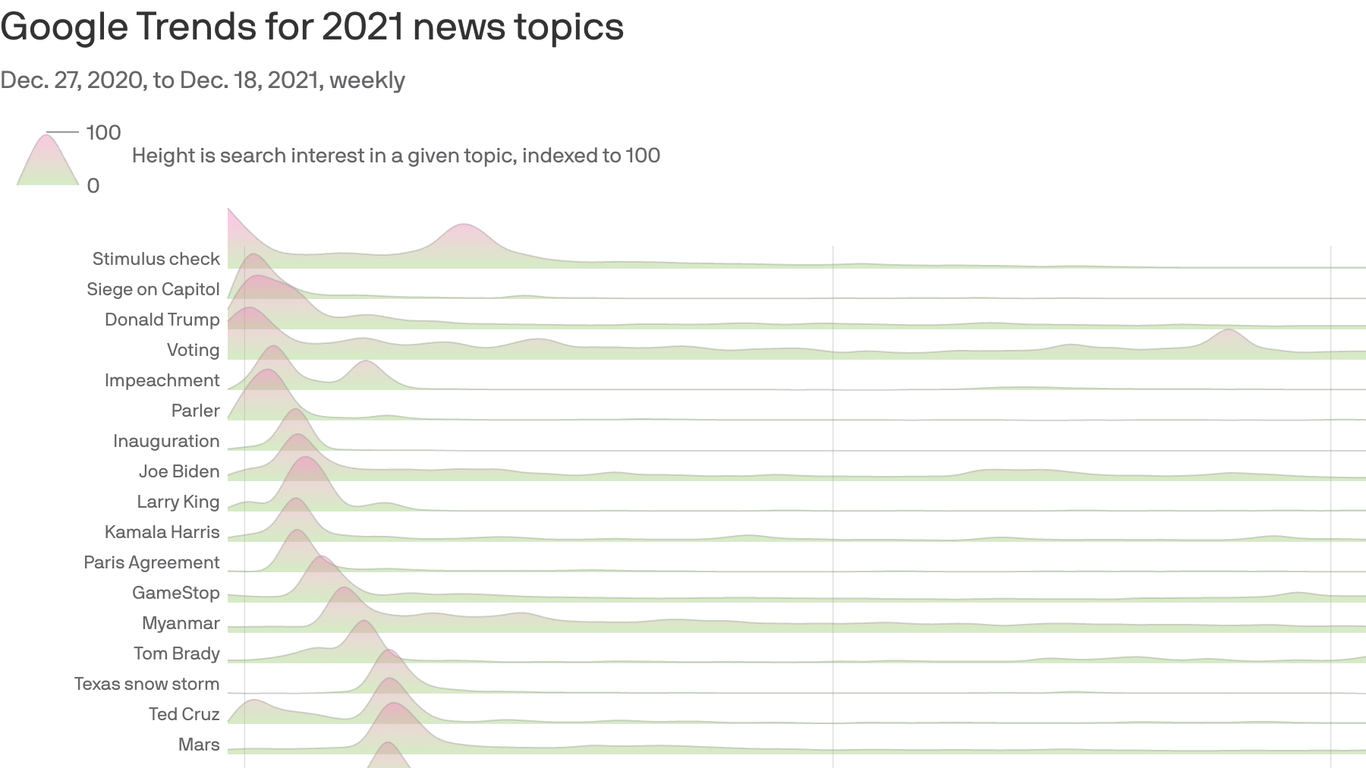 Read The Chainalysis 2021 NFT Market Report which presents Everything You Need to Know About the NFT Market and Its Most Successful Collectors
Subscribe to get early access to a new podcast that is launching to showcase the emergence of the regenerative finance movement - "where crypto and climate action meet." jE (CryptoXClimate), a ReFi Evangelist, and a few friends are the creators of this podcast, and they have guests lined up that include Rune Christensen from MakerDAO, Xerxes from EdenDAO, Sep Kamvar from Celo and many more! You can also contribute to this podcast by visiting its grant application on Gitcoin.
🌍 For the Earth!
We predict that 2022 is going to be the year of ReFi and the Tokenised Earth Economy. The Earth State Intelligence platform will be your leading source of information about this new economy, and the opportunities this will create for you grow your stake!
---
Not financial or tax advice. This article is strictly educational and is not investment advice or a solicitation to buy or sell any assets or to make any financial decisions. For tax advice talk to your accountant. Do your own research.